Ann McInerney- Cemetery Sexton
Micah Kuhtic – Cemetery Supervisor
---
ARE YOU RELATED TO ANY OF THESE INDIVIDUALS?  Click here….
Please check and see and contact the Clerk, if so.
---
Cemetery Death Records
Call the Township Office 269-792-6394 for information.
We have a database of our four cemeteries to better serve our community and families.  Please call 269-792-6394 or email Ann McInerney, Clerk/Sexton @ mcinerneya@waytwp.org with any questions.
CEMETERY RULES FOR WAYLAND TOWNSHIP
East & West Elmwood, Germond & Hill Cemeteries
Permitted
Flowers to be placed on the graveside or end of gravestone
All artificial flowers to be removed by October 15
All winter wreaths to be removed by April 1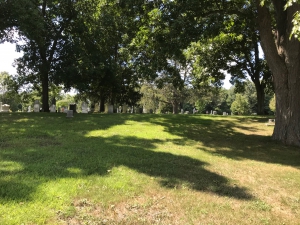 Not Permitted
 Glass or Ceramic Containers
Trees, Shrubs, Rose Bushes, (Bushes)
No gravesite shall be surfaced with gravel, fences, or capping
Stone or Cement work of any kind
Flower beds may be placed either up to twelve inches (12") in front of the gravestone OR up to eighteen inches (18") behind the gravestone.
Rigid borders may be used but must not extend beyond the 12" in front of the gravestone OR 18" behind the gravestone.
Surfaces other than earth or sod must be contained by rigid borders.  No gravel, rocks or glass.  Artificial flowers must be in non-glass/ceramic containers.
Shepard hooks may be removed if they pose a danger for grave maintenance.
Cemetery maintenance, safety and maintaining proper appearance are under the supervision of the Cemetery Supervisor.  Offending grave sites shall be brought into compliance.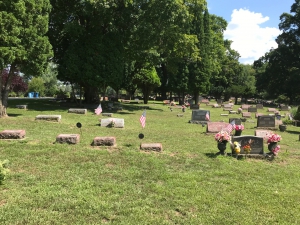 The Cemetery Supervisor has the authority to remove and dispose of any and all
growth, emblems, displays or containers that through decay, deterioration, damage or otherwise become unsightly, as a source of litter or a maintenance problem.
The Wayland Township Board and employees take pride in our cemeteries,
we will continue to maintain them as a beautiful and peaceful final resting place.